Ashram flyover shut, but forced open by traffic rush in two and half hours
Updated on Jan 02,01,2023 04:50 AM IST
Senior traffic police officers who asked not to be named said they had to open the
carriageway from Lajpat Nagar towards DND to ease traffic immediately as the at
surface road was simply unable to take the heavy load.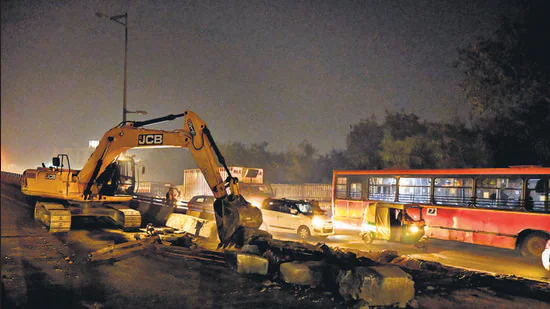 The Ashram flyover was shut on Sunday eve. However, one carriageway had to be opened due to heavy traffic rush.
The Ashram flyover on the Ring Road was closed on Sunday for the last leg of
construction work to link it with an extension built around 50m further down
the Ring Road. However, within 2.5 hours, the traffic police had to open one
carriageway as the closure triggered massive snarls with bumper-to-bumper
traffic extending up to AIIMS.
An officer speaking on condition of anonymity said they will hold a meeting
with the PWD again, and monitor traffic at Ashram in real
time on Monday morning to see if they need to reopen both carriageways. "There
was massive traffic within 2.5 hours. Its not manageable. Vehicles moving towards
Ashram were stuck till the AIIMS. So we had to open this carriageway (Lajpat Nagar- Ashram)
while the other carriageway(Ashram to Lajpat Nagar) is closed," the officer said.
This, however, exposed yet again how unprepared the agencies were to manage the massive
rush of vehicles that needs to be diverted at the key traffic intersection which is used by
more than 320,000 vehicles every day.
The side carriageways that will take the traffic load due to the flyover closure continued to remain in a bad shape, and were encroached upon on multiple points, ensuring that commuters had no reprieve.
The Ashram flyover, which allows traffic on the intersection to bypass traffic on the Mathura Road, had to be shut down for 46 days for the remaining construction work on the extension of the elevated carriageway up to DND with loops towards Sarai Kale Khan.
The Public Works Department (PWD) has put up banners and posters with diversion signs at multiple points, alerting commuters that the Ashram flyover is shutting from January 1, and advising people to take alternate routes.HT saw many such boards on the DND Flyway leading to the Ashram Chowk. However, the signage meant for the incoming traffic from DND Flyway had been wrongly placed on the CV Raman Marg. Till late evening, officials were yet to place it correctly.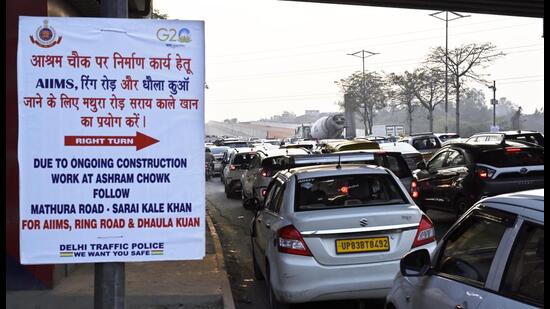 Both carriageways of the Ashram flyover on Delhi's Ring Road have been closed for the last leg of construction to link it with an extension around 100m away a day after they were shut but one of them was reopened within 2.5 as the closure triggered snarls with bumper-to-bumper traffic.