Tom Brady retires 'for good' after 23 seasons in NFL L
legendary quarterback and record seven-time Super Bowl winner Tom Brady says he is retiring "for good" after 23 seasons in the NFL.
Brady, 45, first announced his retirement on this day last year but reversed his decision six weeks later, claiming he had "unfinished business".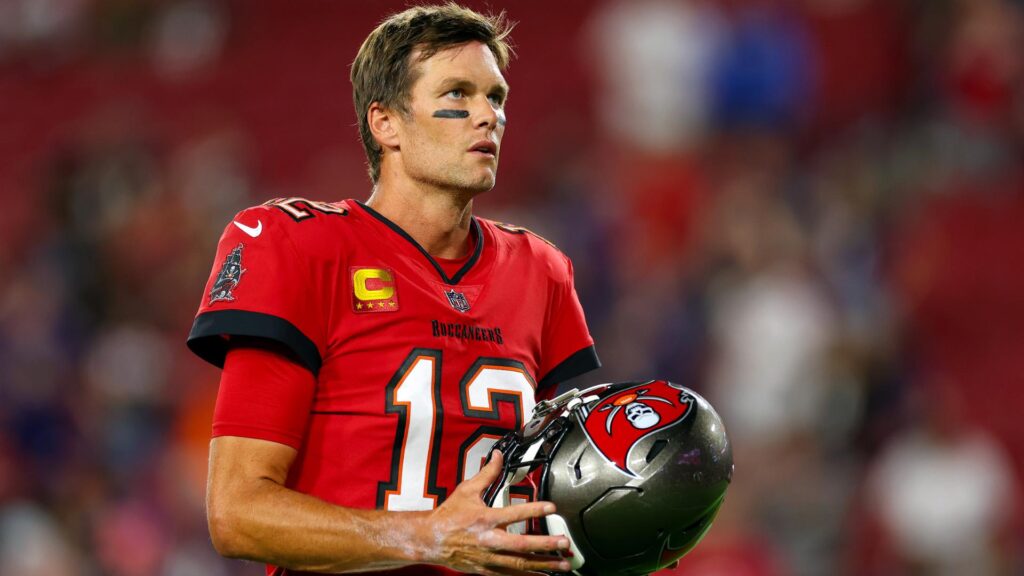 He won six Super Bowls with the New England Patriots and one with the Tampa Bay Buccaneers in 2021.
Brady's final season ended in the Bucs' 31-14 play-off defeat last month.
How did Brady become the GREAT ?
"I'm retiring – for good," he said in an emotional video posted on social media. "I know the process was a pretty big deal last time, so when I woke up this morning I figured I'd just press record and let you guys know first.
"It won't be long-winded. You only get one super-emotional retirement essay and I used mine up last year.
"Thank you so much to every single one of you for supporting me – my family, my friends, my team-mates, my competitors. I could go on forever – there's too many.
"Thank you for allowing me to live my absolute dream. I wouldn't change a thing. Love you all."
After being selected by the Patriots with the 199th pick of the 2000 draft, Brady led the franchise to six Super Bowl titles.
He left for the Bucs in 2020 and helped them win the title in his first season, being named the game's Most Valuable Player (MVP) for a fifth time.
After returning to the game last March, Brady – a three-time NFL season MVP – posted the first losing record of his career in a difficult year on and off the field.
Away from the sport, Brady and his wife of 13 years Gisele Bundchen announced their divorce in October after months of rumours.
Brady – heralded as American football's GOAT (greatest of all time) – led his team to the play-offs in 20 of his 21 seasons as a starter.
He is the NFL's all-time regular-season leader in pass attempts (12,050), completions (7,753), passing yards (89,214) and touchdown passes (649), as well as being the league's leader in all four categories in the post-season.
Tampa Bay Buccaneers tweet: Thank you Tom
In 2015 Brady was given a four-game suspension for allegedly colluding to deflate balls during a play-off game, but the ban was overturned after a United States judge ruled it had "legal deficiencies", allowing him to play the entire 2015-16 season.
It was reinstated for the start of 2016 and he missed the first four games of the campaign.
The 2022-23 season was expected to be Brady's last, at least with the Bucs – he had been linked with the Las Vegas Raiders, Tennessee Titans, San Francisco 49ers and Miami Dolphins.
Last March Brady agreed a 10-year contract worth a reported $375m (£300m) to become Fox Sports' lead NFL analyst once he retired.
Analysis – a dignified departure for the undisputed GOAT
Last year there were leaks and denials about whether Tom Brady would retire, then confirmation and a U-turn just 40 days later.
This time around Brady made his intentions crystal clear in a raw, humble message direct from the man himself, rather than via a marketing team.
It was a dignified departure befitting a player who must now be recognised as the NFL's greatest of all-time.
After Tampa Bay's exit from the play-offs, there had been some speculation about what Brady would do next and he was linked with several other NFL teams.
But this announcement comes before the rumour mill could go into overdrive, sparing suitors from making a futile attempt to sign him and giving them time to pursue other targets.
It also comes before the media circus of Super Bowl week kicks off on Monday so won't take the spotlight away from this year's title contenders.
However, Brady is set to join Fox Sports, which has the television rights to Super Bowl 57, so many are now wondering if he will have a role to play during their coverage a week on Sunday.
NFL tweet: 'Tom Brady's 23-season career:
*7x Super Bowl champion,
*5x Super Bowl MVP,
*3x League MVP,
*89,214 regular season passing yards,
*649 regular season touchdowns,
*13,400 play-off passing yards,
*88 playoff touchdowns'