Tunisha Sharma death case ! it's not about Religion or Love Jihad but issue of mental Health:
Family of accused:
Maintaining silence for over a week after allegations of love jihad were raked up against actor Sheezan Khan, currently in Thane Central Jail for allegedly abetting the suicide of his 20-year-old co-actor Tunisha Sharma, Khan's family rubbished the allegations on Monday.
Khan's mother Kehkashan, sisters – actors Shafaq Naaz and Falaq Naaz – and lawyer Shailendra Mishra spoke to the media for the first time since Tunisha's death while shooting for the show Alibaba: Dastan-e-Kabul on December 24 in Vasai.
'We did not want to be part of a media trial but the way Khan and his family have been maligned, we decided to speak up,' said Mishra. The family arrived at the press conference with a printout of a clip from episode 21 of Alibaba: Dastan-e-Kabul, in which Tunisha's character is seen wearing a hijab. They claimed that it was this photograph of Tunisha in a costume, shared on social media, which was misrepresented, fanning allegations of love jihad.
Shafaq said, 'A photo of Tunisha in a hijab is being circulated to show that she was being converted. It is actually a costume from the show Alibaba starring her and Sheezan. Since it was Ganesh Chaturthi, after shooting, the two are seen participating in Ganesh puja on the set. It was from episode 21 of the show shot on September 14.'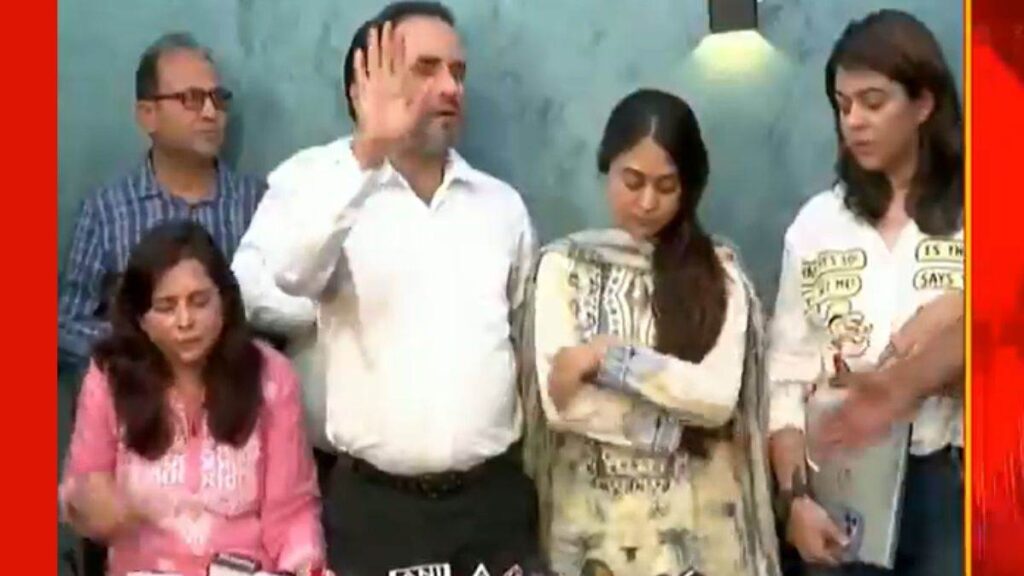 Falaq said that as part of the show, since the characters were to speak in Urdu, Tunisha was learning diction. 'Tunisha was like my sister and we shared a bond. I met her during their shoot in Ladakh and we shared a good rapport. Our religion is our personal thing and we don't have the right to force it on anyone. Nor do we flaunt our religion in public. This is an issue of mental health… from where did the religion angle come?'
One of the first mentions of Tunisha wearing hijab and speaking Urdu had come from one Pawan Sharma, who spoke to some TV channels. 'Pawan, who had been claiming to be her Mama (maternal uncle), had been making these allegations. However, he is not even her Mama and was her manager a few years ago. Tunisha fired him nearly four years ago, as he interfered too much,' Falaq said.
When contacted, Sharma said, 'I am her Mama since her mother ties me rakhi. I am not directly related.' On being fired by Tunisha, he said, 'If she fired me, why did she attend my birthday party a few months ago? Why has her mother (Vanita Sharma) trusted me so much?' On allegations of love jihad, Sharma said, 'I am merely saying that all angles should be probed. Tunisha would take her hijab home and had started speaking Urdu.'
Khan's family, meanwhile, named another 'uncle', Sanjeev Kaushal, who Tunisha was allegedly in mortal fear of. They also accused Vanita of causing her childhood trauma and making her 'beg before her for every penny'.
'Tunisha used to panic upon hearing the name of Sanjeev. At the instigation of Sanjeev, Tunisha's mother broke her phone and tried to strangulate her… Sanjeev and Tunisha's mother used to control her life,' Mishra alleged. Falaq said that a day before her death, Tunisha had come to the room where actors Parth Zutshi, Sheezan and others were present. 'She told Parth that she will show him something and he should not be upset. On her phone, she showed him the drawing of a noose. This upset Parth… even Sheezan called up Tunisha's mother and told her to take care of Tunisha. However, she was left unaccompanied and she died by suicide the next day.'